My husband and I have had 4 kids in the span of 10 years. Our youngest is one so I feel like a pretty good source of advice and input on baby products. I love finding unique items, reading product reviews, and chatting with other parents that remark over my interesting baby item. In ten years we've found some pretty cool things. Some of our discoveries have gained popularity and some are still word of mouth advertising. The latter is a shame because most of these things make life so much easier. Here are our top 10 favorites...
1) The Podee
I've been using this since 2006 and I still get stopped and asked where I got it. It's a hands free self feeder I found after I had my second child. He was too young to hold his own bottle and we were going on an 8 hour car trip. This allowed me to pump and feed him with out constantly pulling over and losing time. I didn't have to cram myself in the back seat to hold his bottle or sit uncomfortably in the front holding a bottle in some crazy yoga position. Seven years later we still use it on car rides, when I need to make dinner, when I'm in a rush and/or just can't stop to nurse or hold a bottle.
I've purchased them for friends having their second child or friends having multiples. They've all loved it. We've always found them at Babies R Us and sometimes at Toys R Us. Be warned that finding the Podee is like a game of Where's Waldo. On the wall there are dozens of Avents, Dr. Browns, Evenflos, and Tomme Tippys but there is only one, ONE, hook holdings lonely yellow Podee boxes. You have to hunt for it and half the time the associates at the store have never heard of it. Amazon has them too. **It's worth mentioning for younger babies Mom might have to such the straw enough to fill the nipple with milk. They tend to get frustrated and give up before the milk reaches the nipple.**
2) Sock Ons
YES! There is something out there to prevent baby socks from falling off, babies pulling them off, and socks shooting off like little missiles. I swear up and down I saw that once! Sock Ons come in a variety of colors, styles and sizes. They are essentially a sort of locking device that goes on over a normal baby sock. I have yet to see them in stores but they can be found on Amazon.
3) Onsie Extenders
These have been around for a while and they're so handy. My neighbor just caught sight of the one my one year old was wearing and wished she'd seen them before. Like everything on my list, I don't know why they aren't more commonly found. I originally found them at a website called
http://www.onestepahead.com
but Amazon has them too. I've also seen directions to make your own with old onsies on Pinterest. Getting some extra mileage out of clothing is always a plus since they grow so fast.
4) Carter's Boa Blanket
You've probably been to shower after shower and seen the poor mom get about 20 blankets or received your own fair share of baby blankets. The boa blanket, however, is the creme de le creme of blankets. Even if Mom didn't register for it she probably won't return it because it's so soft and not like the standard receiving blanket. Another great feature is that it stays soft after a year of washings. I've got 2 of the same boa blanket for my youngest because the blanket became his lovey. They've been washed once a week since his birth and are still soft and cozy. Carter's cranks out lots of these in different styles so they're very easy to find.
5) The Craftsman Tool Bag
Sometimes you have to think outside the box. These tool carriers make fantastic diaper caddies. Who'd have thunk it? These are way, way, way, better than the traditional diaper caddies sold in baby stores. The actual diaper caddies I've seen in stores are flimsy, not that functional, and expensive. Sears sells these caddies for $11-$13, they have several pockets for lotions, the main compartment perfectly fits wipes and diapers, and it is STRONG. I'm always catching my 4 year old standing on the handle of ours. As you can see they come in pink! This is a great shower gift as is or filled. I can usually fill one for $20 or so; $13 for the caddy, $4 for a small pack of diapers, and few things from the trial sized section or a dollar store. Something practical for that great a price? You can't beat it!
6) Soothies Breast Pads
Ah, Soothies Gel Pads, just the name brings a wave of comfort. I got my first pair in that
ridiculous
incredibly helpful bag of swag all the new moms get at the hospital. It was buried under a formatted letter of congrats from the governor and life insurance ads. At first I tossed them aside. I'd bought the standard disposable, cotton pads. Plus, I was a nursing pro after my first child so why would I need something like that for the second. Well, baby #2 tried to kill me through my nipples. Crazy Lactation Consultant tried to tell me it only hurts if the baby isn't latched on correctly. That's lie of the devil. Sometimes nipples just need to be toughened up. The only one willing to do the job in my house was baby #2 which had me racing for the Soothies. Ah, Soothies.....cool, comforting, and catches the leaks.
7) Skidders
Fairly new and not too hard to find. These are great for the new walkers in the house because they have the grippy feet and prevent falls. I've got 4 with no grace on the loose at my house. Someone is always falling, sliding, skidding, tripping, etc. I tried puffy paint on the bottom of a pair of socks to make my own non-skid socks but the puffy paint gripped the floor and the kiddos walked out of the sock. Skidders stay on, help wobbly toddlers stay on their feet and they're easy to clean. They also give good back massages if you get the feet with the little nubs on it.
8) Stroller Handle Extensions
Did you know the average strollers are designed for people that are 5'5" or shorter? How tall is the average man? The average man is 5'10" which is the same as MY height. Basically, that means not many dads can comfortably push a stroller. Shopping for our last stroller took more time than shopping for our minivan. I wanted one that I could push without having to hunch over, without having to take short steps, or steps that had me kicking the back of the stroller. Did we find one? Not really. We came close but ended up settling for the best stroller that let me power walk to some decent degree. Enter the stroller handle extension. It gives me the distance I need to avoid kicking the stroller and the height I need to avoid hunching over.
9) The Sippy Cup/Bottle Strap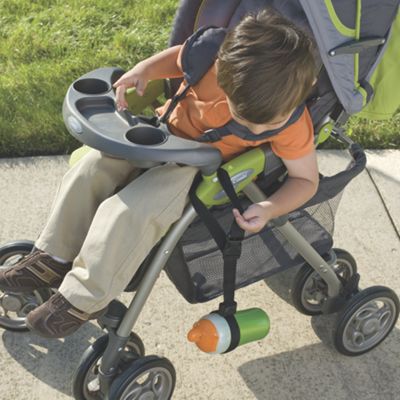 All four of my kids required this but we didn't have one for all of them. They've had their own unique way of losing bottles and cups. #3 would accidentally drop it and keep it a big secret. #2 would fall asleep holding it and eventually drop it. #1 had some sort of Houdini thing going on. Our newest, #4, has a Henry VIII approach and just throws bottles when he's done with them. If we happen to notice, great. If not, our fault for being oblivious. I don't know if you've caught on but bottles and sippy cups can be expensive, plus, I have this condition that make me go crazy when something is lost. When I launched a massive search for the last Dr. Brown #4 hurled at the state fair I knew it was time to find some preventative gadget to save us money and headaches.
10) The Dapper Snapper
They just don't make belts for infants and those cinches in the pants waist band don't start until the 3T sizes. I've needed to adjust pants that were too big in the waist on several occasions but was hesitant to use safety pins on my very active kids. A few times I've lucked out and found a plain dog collar to use as a belt but they usually can't be used on all the pants I have because of the size of the belt loop. Behold the Dapper Snapper. Much easier, works on all types of pants with belt loops, and it keeps the front obstacle free. My boys hated the big belt buckle in the middle of their stomach.